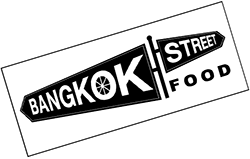 Welcome to Bangkok Street Food
At Bangkok Street Food
we offer authentic Thai meals prepared and cooked with quality and fresh ingredients for a reasonable price to give you a taste of Bangkok. We strive to bring you the best Thai street food with over 30 of the most amazing Thai street food dishes you will ever taste, the flavors of Thailand will keep your taste buds guessing ; ) Every recipe on our menu is found at real Bangkok street vendors. We are proud to be Thai, and to introduce our favorite flavors to the people of Calgary to try. We invite you to come and be transported to the streets of Bangkok. Experience all our food and even our heartwarming smiles. : )
OUR STORY
King (PK) and Pern (Peerakarn) were born and raised in Bangkok, the capital city of Thailand, where you will find food at every street corner. They grew up eating and cooking a lot of delicious street foods such as Moo-Ping (skewers of grilled pork marinated in Thai herbs), Khao-Man-Kai (seasoned sliced chicken served over herb-studded jasmine rice, with cucumber and garlic ginger sauce), Meat Balls with spicy sweet and sour sauce and Tom Yum Noodle Soup and much more...
After having operated 2 successful Thai restaurant for several years and currently own 2 of the famous ones - Thai Nongkhai Restaurant and  De Thai Cuisine - King and Pern wanted to branch out and offer something unique and found that they feel the need to bring street food all the way from Bangkok to Calgary and have selected their favorites and introductory Thai street food menu for your pleasure.
"While most of our dishes contain meat, vegetarian and gluten free items are available too. And most dishes can be made vegetarian or gluten free upon request" says owner King. Not only does Thai food cater to meat lovers, vegetarian dishes like Deep Fried Tofu and Thai Curries are also available. Each year the number of Vegans increases, Thai street food thus offers more variety.
Bangkok Street Food offer delicious Thai street food for lunch and dinner and in between snacks and finishing up with wonderful Thai desserts. Shortly you can experience all these yummy street foods at Avenida Food Hall &  Fresh Market located at 12445 Lake Fraser Dr. SE, Calgary - available only at Bangkok Street Food Calgary!